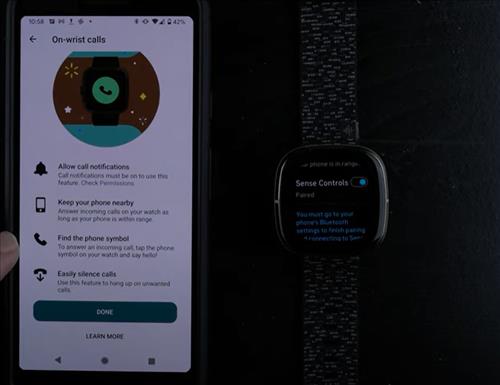 The Fitbit Sense is a feature-packed smartwatch that extends the device's usefulness far beyond that of a simple health and fitness tracker.
One of the more useful features on the Fitbit Sense is the ability to answer or decline phone calls that come in to your paired Phone or Android device.
Note that you can only accept or decline phone calls through the Fitbit, and you can't actually talk to people through the smartwatch.
It is still a great feature making it quick and easy to screen calls when working-out or when the phone is not near.
The basic to setup the calls option is to Pair with a smartphone, walk through a setup wizard and be sure it is enabled within notifications.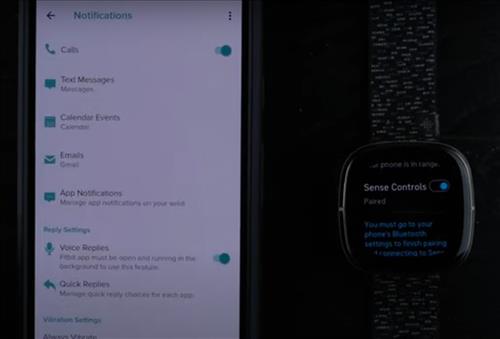 There is a video at the bottom of the post for a walk-through if needed.
How to Set Up On-Wrist Phone Calls For Fitbit Sense
Go to Settings, Click Pair New Device and then tap on Sense Controls.

It will display a Bluetooth pairing code, Click on Pair.

From your smartphone open the Fitbit App.

Click on the Profile icon your device image at the upper left hand corner.

Then click where it says Sense.

Scroll down under in general section find On- Wrist Calls and click on it.

Click See Instructions.

Click on Start Setup

Click on Done to complete setup.

.

How to Set Answer Calls on Fitbit Sense to On
Make sure call notifications are turned on.
Launch the Fitbit app on your Android device.
Tap your profile picture in the upper left corner of the screen.
Tap your Fitbit Sense in the list of connected devices. The information screen for your Fitbit Sense appears.
Tap "Notifications" in the list of options on the bottom part of this screen. The Notifications screen appears.

Turn the Calls Option to ON

The Fitbit Sense will automatically start receiving notifications.

With call notifications enabled, you'll feel your Fitbit Sense vibrate, and you'll see an incoming Call message on the screen, along with either the contact name, or if there's no assigned contact name, a phone number.
You can tap the green phone icon in the lower right corner of your Fitbit Sense screen to accept the phone call on your Phone or Android device.
When you do this, the phone call will automatically be answered on your phone.
Alternatively, if you don't want to answer the phone call you can either let the call ring through to your voice mail, or you can tap the red phone icon with a line through it in the upper right corner of the Fitbit Sense screen to send the caller directly to voice mail.