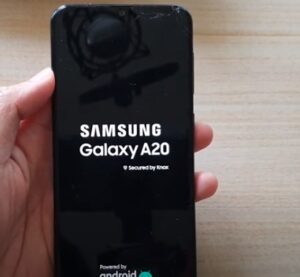 Factory Resetting a Samsung Galaxy A20 is easy to do but be sure to save any important data.
After resetting the Galaxy A20, the data on it will be erased, which includes all apps, files, and cache. When you turn the phone on later it will be like you're getting a new phone that requires initial settings and logging in. Before resetting your A20 phone it is best back up your data.
Hard resetting the Samsung phone from setting is one of the easiest ways to solve some functional problems.
It can also be done before selling the phone or giving it away to empty it of your all the old data.
A factory reset can be done with the buttons or from the Settings.
Below are the steps along with screenshots for both methods along with a video if needed.
How To Factory Reset a Samsung Galaxy A20 from Settings
Click on Settings (Gear Icon)

Scroll down and select General Management

Select Reset

Click Factory Data Reset

At the Bottom of the screen click on Reset

Click Delete All



How To Factory Reset a Samsung Galaxy A20 with the Buttons
Power Off the Samsung Galaxy A20 Smartphone

Hold the Volume Up and Power button at the same time

When the Samsung boot screen comes up let go of the Power button .(Keep holding the volume button)

Let go of the Volume button when the Android Recovery screen comes up.

Navigate down with the volume button and select with the Power Button Wipe Data Factory Reset

Select Factory Data Reset

After the data is wiped select Reboot System Now.
Summary
Resetting a Samsung Galaxy A20 Smartphone is easy to do from either the settings or with the button combination.
If you have the password resetting from the settings is usually the best option.
If you have lost the password and locked yourself out of the S20 using the button combination hard reset will allow you to access to the phone again.
What should be noted is that this process cannot be undone, so think twice before making your decision. And make sure your Samsung phone has more than 70% charge left so as not to go dead while resetting.
Remember when factory resetting all the data on the smartphone will be gone.