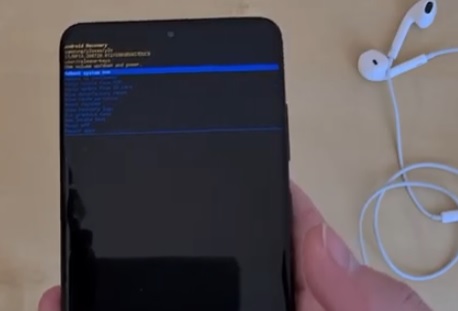 If you have tried to boot an Android 11 smartphone into recovery mode, you will notice that the old method no longer works.
The old method for booting into recovery mode was with the power off to hold the volume up and power buttons and let go when the Android logo appeared.
If the old method is used on a new Android 11 smartphone, it will not go into recovery mode but boot like normal.
The new method is similar but needs to have earphones plugged into the USB-C power jack.
This may seem strange at first, but Android 11 needs earphones to be plugged into the power jack, and then the button combination will work.
Most types of earphones seem to work, but the original earphones that came in the box work best.
How to Boot Samsung Android 11 Recovery Mode
Power Off the smartphone.

Connect earphones to the USB-C port at the bottom of the smartphone.

Hold the Volume Up and Power buttons at the same time.

Let go of the button when Recover Mode comes up.
Summary
Samsung Android 11 smartphones are great new units that are packed with many features and options.
While they are great new devices, there is a slight difference in some options, such as the way the phones boot into recovery mode.
The main difference is that the new Android 11 now needs an earphone plugged into the USB Type-C jack at the bottom of the phone.
The added feature gives the phone more security features as going into recovery mode can not be done accidentally.
While rare, some users have had their phone accidentally go into recovery mode when not intended.
It is hard to see how this has happened since the volume and power buttons must be pressed together for 4-5 seconds, but it seems as it has.
The new feature, requiring earphones to be plugged in, rules out any accidental opening of recovery mode.
Have you had problems with the new Android 11 going into recovery mode? Let us know your thoughts below.