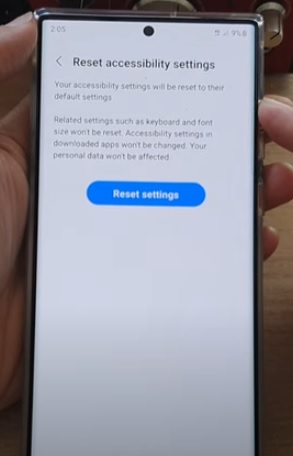 The Samsung Galaxy S22 has many nice features, including Accessibility Settings.
Accessibility Settings include talk-back voice assistant, visibility enhancements such as fonts and animations, hearing enhancements, Interaction and dexterity, and more.
If the settings are changed, and you want to change them back to default, it is quick and easy to do.
Resetting them back to default will set the accessibility options back as to when the phone was new.
How to Reset Accessibility Settings Galaxy S22
Swipe down from the top of the screen and select Settings (Gear Icon).

Select General Management.

Select Reset

Select Reset Accessibility Settings

Click Reset Settings

If your phone is password-protected, enter the pin.
Summary
The Samsung Galaxy S22 accessibility settings have many nice options that can be a very real befit to a user.
For example, the talk-back voice assistant can give spoken feedback to a user, which can help someone visually impaired.
Hearing enhancements are also available that allow Android smartphones to receive alerts with compatible sound detectors.
While these features can help many users, they also can cause an issue in some scenarios.
For example, if the talk-back voice assistant is turned on, it may not be good in an office meeting or other situations.
Another example is if the hearing enhancements are accidentally tuned on, getting a constant alert may not be annoying.
In any of these scenarios, if the accessibility settings are causing an issue, they can be set back to default which should clear the problem.
The steps are easy to do by going to the reset section and resetting the option. If the phone is password protected, the passcode will need to be entered.
This includes the Samsung Galaxy S22, S22 Plus, and S22 Ultra.
Have you had any issues resetting accessibility settings back to default with the Galaxy S22? Let us know in the comments below.