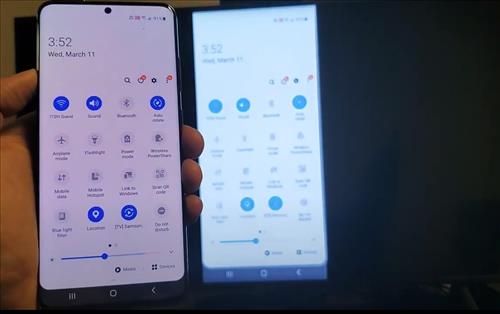 The Samsung Galaxy S20 is a great Android smartphone with many built-in features.
One such feature is the ability to mirror the screen to a big-screen TV.
This can be done with any compatible device such as a Samsung or Panasonic Smart TV.
The option used to connect is called Smart View, which, when turned on, connects to a TV that is in range.
How to Screen Mirror to a Smart TV with a Galaxy S20
Swipe down from the top of the screen to bring up options.

Look for Smart View and click on it.

Once it detects your TV, click on it. You will then be prompted to screen mirror the display from your phone.

Click Start Now. Your phone will try to connect to your TV, and it may take a few seconds to complete.

If you are watching a movie or video, you can change the aspect ratio to fit the screen of your TV. You can also control the volume from the TV directly from your phone.

Summary
Android smartphones such as the Galaxy S20 are great devices with the ability to expand to other devices such as a TV.
Expanding the display of the phone to a TV is handy in many scenarios.
For example, when visiting friends or family, photos and videos can be shown to a large gathering without individually looking at the phone.
Likewise, at a company meeting, charts can be shown to a group of people.
These are only a few examples, with no doubt many other scenarios that projecting the screen would be very beneficial.
With the steps above, you will learn how to connect and screen mirror to a Smart TV with the Samsung Galaxy S20, S20 Plus, and the S20 Ultra.
Have you had any issues when projecting a Galaxy S20 screen to a TV? Let us know in the comments below.