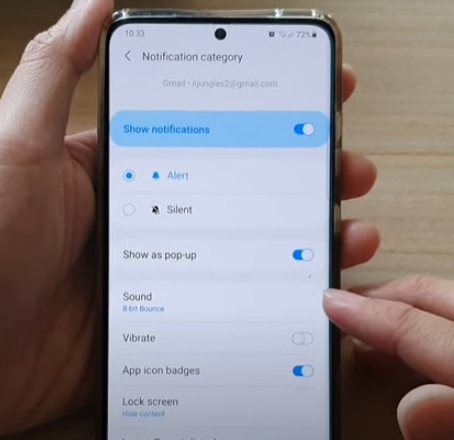 If you want to change the Gmail notification sound on your Samsung Galaxy smartphone, it is quick and easy to do.
There are many different notification sounds that can be used.
This includes the sounds Alpha, Aurora, Beep Once, Chaos, Contact, Luna, and many more.
How to Set a Set a Different Gmail Notification Sound Samsung Galaxy
Open the Gmail App.

At the top left, tap Menu Settings.

Select Settings from the list.

Select the General Settings from the list.

Click the Manage Notifications.

Click the Mail options.

Under Show Notifications, click notification Sounds.

Under sound options, scroll and pick a sound you want to choose from.

Each sound can be tested before use and will automatically make a noise when selected.
Summary
The standard default Gmail notification in Samsung Galaxy smartphones while working can be changed to something more personalized.
The Gmail library in settings and notification sounds is very large, with many multiple sounds to choose from.
This includes many beeps that sound like R2D2 talking to single or multiple beeps.
Personalizing the option makes for a great way to set your smartphone to your own unique style.
Do you have a favorite notification sound? Let us know below.