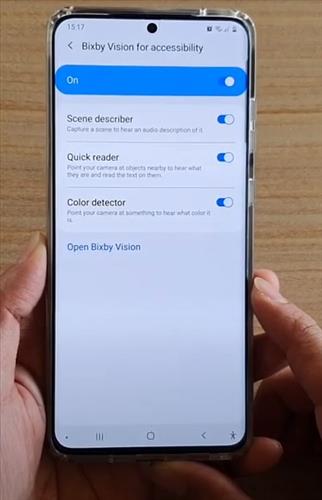 If you have a Samsung Galaxy S20 Android Smartphone, you may wonder how to use the built-in camera to detect an object's color.
The Galaxy S20 can examine an object and report which color it is back to the user.
This has many uses, from helping the color blind to finding out what a vague color may be.
This an awesome camera feature is a great option that can be used to detect an object's color.
It can also be very useful if you want to know an object's exact color without touching it physically.
How To Use the Camera to Detect an Object's Color Samsung Galaxy S20 or S20 Plus
Swipe down at the top right and then click on Settings.

Scroll down on to Accessibility and click it.

From Accessibility option click on Advance Settings.

Click on Bixby Vision for Accessibility option.

Once switched on the color detector will become active.
Summary
The Samsung Galaxy S20 is a very nice Android smartphone with many nice options and features.
One such feature is the ability to use the camera to detect an object's color.
This is also a great option in many scenarios.
For example, if you want to match an outfit or piece of furniture to a specific color.
You can also use it to find out the name of a color you may not be sure about or may between two colors in the way it looks.
Another use would be to detect a paint color on a wall which is notoriously difficult to match at a paint store.
Have you had any issues using the Galaxy S20 to detect an object's color? Let us know your thoughts below.