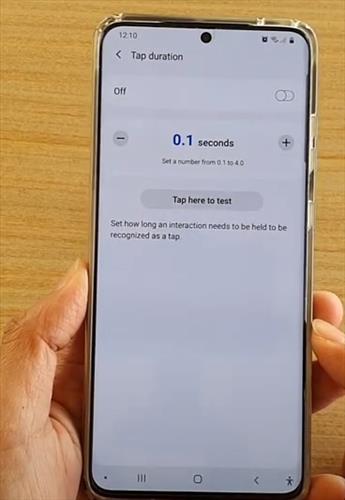 The Samsung Galaxy S20 is a great Android smartphone with many options and features.
One such feature is the ability to set the tap time on the phone, which can improve usability.
This includes the Samsung Galaxy S20 and S30 Plus.
What is Tap Duration Time?
Tap Duration Time is how long it takes for an app or other onscreen selection takes to respond after being selected.
For example, if an app responds too slowly when you select it, the response time can be sped up to react quicker.
Likewise, if the response time is too fast, the response time can be slowed down.
The default tap duration time is usually good for most users, but it can be adjusted to fit the owner of a Galaxy S20.
A longer tap duration time can help anyone who has problems with taping quickly.
When the smartphone is set to a longer time and customized for adjustment, it can be very beneficial for some users.
How To Set a Longer Tap Duration Time Samsung Galaxy S20 or S20 Plus
Swipe down at the top right and then click on Settings (Gear Icon).

Scroll down to Accessibility and click it.

Select Interaction and Dexterity.

Click the Tap duration option.

From here, the Tap duration can be set in 0.1 seconds increments.

Summary
The response time of apps and other options on a Galaxy S20 can be adjusted faster or slower.

If an app responds too quickly when selected, the response time can be slowed down.

If an app response to slow when selected, the response time can be sped up.

Setting longer or slower times is easy to do by setting Tap Duration Time.