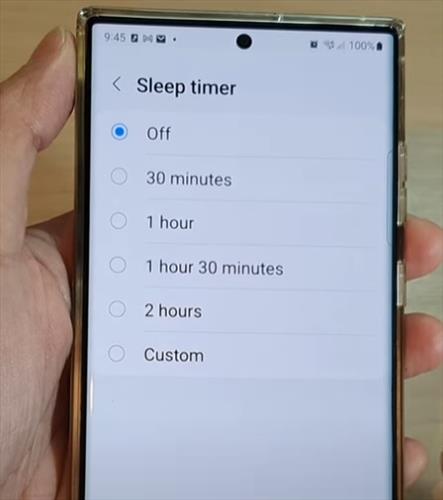 If you need a timer on a Galaxy S22 to be set as a reminder, the Samsung Music app can be used as a timer.
It is quick and easy to use with preset times or a custom timer.
What is the Samsung Music Sleep Timer?
Samsung smartphones with the Samsung music app have an option to set a timer as a reminder or wake-up alarm.
The option can be very useful for being reminded when cooking, nap wake-up time, or setting a time when to wake up in the morning.
It has quick click preset times including 30 minutes, 1 hour, 1 hour, 30 minutes, 2 hours, and Custom.
The custom option can set any amount of time-based on hours and minutes.
It is a useful feature that can be handy in many scenarios.
How to Set a Sleep Timer In Samsung Music Samsung Galaxy S22
Find and select the Samsung Music app.

Select the More option at the top right (Three Dots).

Click on Settings.

Select Sleep Timer

Select the preset times or choose Custom.

The custom option will allow any time to be set using hours and minutes.
Summary
The Samsung Galaxy S22 has many options and features that make the everyday task easier.
One such option is to use the free app Samsung Music to set a timer.
The timer can be used in many scenarios as a reminder of when it is time to do something.
For example, if you are cooking and the recipe calls for 30 minutes, it can be set quickly.
Another example is if you are ready for a nap but need to get up in an hour, the Samsung Music app can be used as a timer.
The app comes installed by default and is free to use.
Have you used the Samsung Music app as a timer? Let us know your thoughts below.