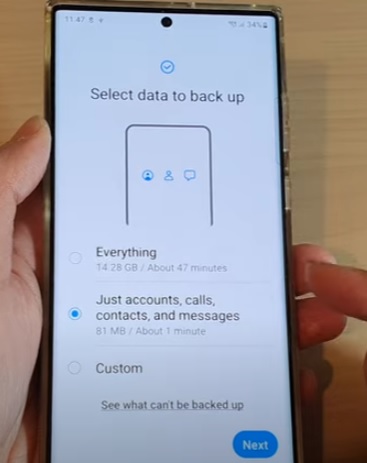 If you have a Samsung Galaxy S22, the phone's data can be saved and backed up on a USB drive.
This includes the Samsung Galaxy S22, S22 Plus, and S22 Ultra.
The Galaxy S22 has several options to backup data, including backup everything, calls, accounts and messages, and custom.
If the "Everything option" is selected, the entire phone will be backed up.
If calls, accounts, and messages is selected, only that data will be saved.
There is also a custom option to pick and choose what you would like to save.
The smartphone will need a USB drive plugged into the USB-C port to copy the data.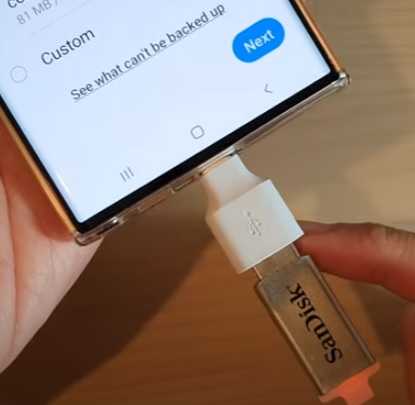 Any USB Type-C flash drive will work, including using an adapter from an older USB standard to the new Type-C.
Most boxes the Galaxy S22 is shipped with will have a small adapter if one is needed.
How to Backup a Galaxy S22 Data to a Flash Drive
Swipe down from the top of the screen and select Settings (Gear Icon).

Scroll down, find and select Accounts and Backup.

Select External Storage Transfer.

Select Backup to USB Storage.

Select one of the options Everything, Just Accounts, calls, contacts, and messages, or custom and click next.

Set a password for the USB drive and click OK.

The phone will backup the data, showing how much time is left on the screen.
How To Restore a Galaxy S22 Data From a USB Drive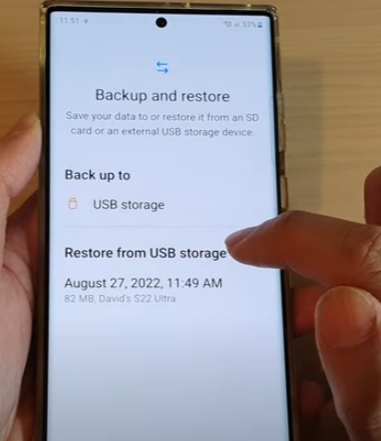 Restoring the data saved to the flash drive is quick and easy to do.
Go to Settings–> Accounts and Backup–> External Storage Transfer–> Restore from USB Storage.
The password that was set during the backup will be needed.
Summary
The Samsung Galaxy S22 is a great Android smartphone with many options and features.
One such feature is the ability to backup the data of the phone to a flash drive.
Backup options include backup everything, calls, accounts and messages, and custom.
Backing up the data is a good way to save the data in case the phone is damaged or lost.
The data can be restored to the device or transferred to a new device.
Have you backed up the data on a Galaxy S22 to a USB flash drive? Let us know your thoughts below.