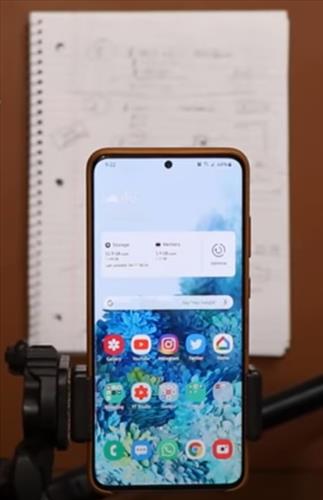 Scanning documents is quick and easy to do with the Samsung Galaxy S20.
The camera has an option to enable scanning of documents called Document Scan which needs to be enabled.
Below are the steps to enable this option along with a video at the bottom of the post for a walk-through if needed.
How To Scan Documents with Your Samsung Galaxy S20
From your Samsung Galaxy S20 open your Camera App.

Put your document in the center of your view.

Make sure the document scanner is working by going to Camera Settings (Top Left Gear Icon).

Click the Scene Optimizer option.

Then make sure the Document Scan is turned on

Go back to camera app and click on the scan button.

Tips for Scanning a Document with a Samsung Galaxy S20
The camera will detect automatically the document and you will be able to click on the scan button.
Click on the thumbnail image to review the scan.
You can also edit, crop, and rotate your scan as needed and then save it.
You can also zoom in to have a better more clear scan.
Click scan when you are ready and the document will be stored in your Samsung Galaxy S20 gallery for you to save or share.