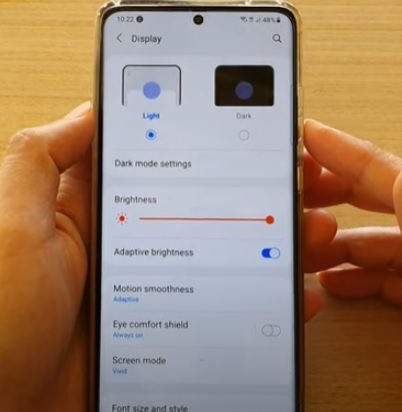 When enabled, Eye Comfort Shield will filter and reduce the blue light from your phone's display and thereby prevents eye strain. This feature plays a vital role, especially when using the phone at night or in low-light settings.
Below is a step-by-step how to Enable/Disable Eye Comfort Shield Galaxy S21 with a video at the bottom of the page if needed.
How to Enable or Disable Eye Comfort Shield Galaxy S21
Swipe down from the top and, click on Settings. (Top Right Gear Icon)

Click on Display options.

Click on Eye Comfort Shield to enable or disable setting.

To adjust eye comfort shield settings, go back to the settings click on display options and then tap on Eye Comfort Shield.

Choose between Adaptive or Custom.

If you would like to activate Adaptive its automatically adjust your screen color based on the time of a day or you can select custom options to choose the color temperature that's right for you and then you can set a schedule. If you would like to adjust the Color Temperature intensity drag the bar from left to right to suit your preference.