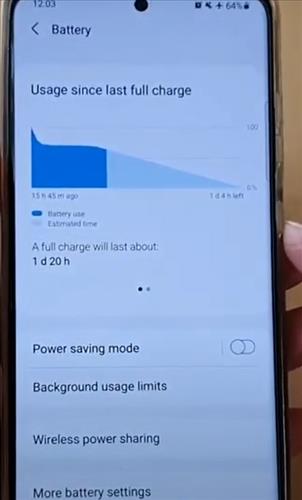 If you own a Galaxy S21 and the battery drains too quickly, getting more charge time is quick and easy to do with power saving mode.
This includes the Galaxy S21 Ultra and Plus smartphones.
When power saving mode is enabled, it can reduce the performance of your Galaxy S21 and limits vibration, location services, and most background data to help improve battery life.
The trade-off from having these features deniable greatly improves battery life.
How to Enable/Disable Power Saving Mode Samsung Galaxy S21/Ultra/Plus
Swipe down from the top of the screen and click on Settings. (Top Right Gear Icon)

Click on Battery and device care.

Click Battery

Click the Power Saving Mode switch to turn it on or off

When turned off, you can also customize power saving options by turning the following on or off. Turn off Always On Display, Limit CPU speed to 70%, Decrease brightness by 10%, and Limit apps and Home screen.
Summary
Using the power saving mode built into the Galaxy S21 can be very beneficial to improving battery life.
It does stop some features from working, such as location services which often are not in use anyways.
If these features are needed, the option should not be enabled.
Besides the built-in power option, an external battery pack can also be used when more battery life is needed.
While they do add an extra device to be carried about, external battery packs are small and lightweight, making them ideal for adding more power when needed.
If an external battery pack s not an option, the power saving mode can have extra life.
Have you used power saving mode built into the Galaxy S21? Let us know your experience below.