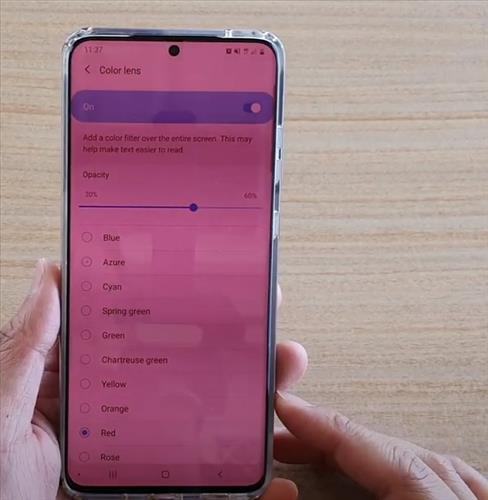 The Galaxy S20 is a very nice Android smartphone with many options and features.
One such feature is the Color Lens option which can change the way the display outputs color.
What is the Galaxy S20 Color Lens Option?
Color Lens allows for the change or adjustment of the display's output color.
The Galaxy S20 can change the color of the screen to almost any color along with opacity.
It is one of the many visibility enhancements that Samsung Galaxy smartphones have built-in.
Below are the steps to enable or disable the color Lens on Galaxy S20, S20 Plus, and S20 Ultra.
How to Enable/Disable Color Lens Samsung Galaxy S20 or S20 Plus
Swipe down at the at the top and then click on Settings.

Scroll down on to Accessibility and click it.

From Accessibility option click on Visibility enhancements.

From Visibility enhancements option click on Color Lens.

After you click on color lens switch to turn off and you can also change the capacity 20 to maximum 20 and down the list you can choose different color for your lens.
Summary
TThe Galaxy S20 display can change the output color by using the built-in feature called Color Lens.
Color Lens is an option created by Samsung so a user can change the look and feel of the display.
This is an advanced option, with most users never needing to use this option.
However, if you are an advanced Android user that feels comfortable making your own adjustments, it may be a good option for you.
It can be best to take a screenshot of the setting to remember the original settings to set the phone back to the original settings.
The option can always be displayed to set the output back to default.
Have you used the Samsung Color Lens option on the Galaxy S20? Let us know your thoughts below.