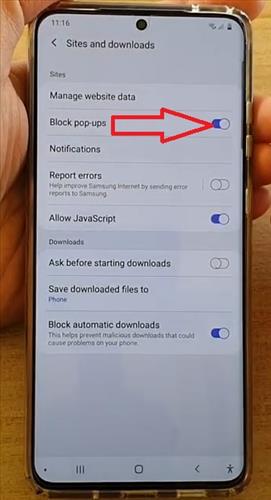 If you own a Samsung Galaxy S20 and get many pop-ups there is a built-in feature that can disable them.
Samsung devices are usually set to use the default web browser called the Samsung Internet app.
This app will open if you open a link from another app or click it to browse. However, if you are getting pop-up ads while using the Samsung Internet browser, they can be turned off.
You can easily disable the pop-up blocker for all websites on the Samsung browser.
The steps below will enable or disable the Block Pop-ups option on a Galaxy S20, S20 Plus, and S20 Ultra.
How to Enable/Disable Block Pop-Ups Samsung Galaxy S20
From the home screen, find and select Samsung Internet Browser Apps.

Click on 3 horizontal lines for menu options.

Select the Settings menu from the list.

Click on Sites and downloads options.

Click the block pop-ups switch to turn it on or off.
Summary
Pop-ups are an annoying nuisance at best and something everybody would like to get rid of.
There are many apps and utilities that help with blocking pup up while online, including the built-in Samsung Galaxy S20, which features Block Pop-Ups.
This feature is freely available on all Galaxy S20 smartphones and is quick and easy to enable or disable the option.
I may not black all pop-ups as they are getting more sophisticated daily, but they can significantly help with many known intrusions.
If your smartphone gets filled up with ads and pop-ups, it is definitely worth a try and, when combined with one of the many apps, can work very well for most.
Have you used Samsung's Block Pop=Ups feature? How well does it work for you? Let us know in the comments below.