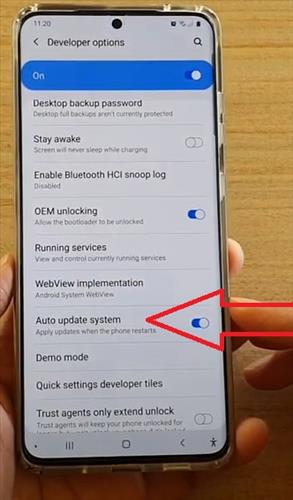 The Samsung Galaxy S20 allows for control over the system updates by enabling or disabling the auto-update.
The location of the option can vary from carrier-to-carrier.
The option is available on all Galaxy S20 smartphone versions, including the S20 Plus and S20 Ultra.
Once it is set, the smartphone will need to be restarted for it to go into effect.
This option is one of many to turn off auto-updates which varies across cell provides.
For example, Google Play also has an auto-update that can be turned off.
Android 8, 9, 10, and 11 seem to force you to update for some phones depending on the carrier.
The update for these phones is being controlled by the "Google Play Services" system app.
If this is the case with your Galaxy S21, go to Settings–> App Settings, then tap the menu button and select "show system."
Scroll until you see "Google Play Services" and disable access to storage and change system settings.
Do the same and disable storage permissions for the "Google" app.
Be sure not to update from the Play Store; otherwise, it may reset the Settings.
How to Enable or Disable Auto Update System Samsung Galaxy S20
Go to Settings (Gear Icon)

Scroll down and select About Phone

Click Software Information

Tap on Build Number 7 Times.

A message will display Developer Mod Has Been Turned On.

Go back to the main settings page and below About Phone will be Developer Options.

Make sure the Developer options is turned on.

Select the option Auto Update System to disable or enable it.