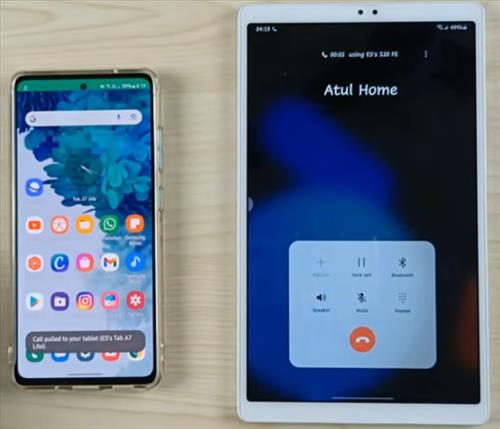 Samsung Galaxy smartphones, tablets, and smartwatches can share calls and text from a smartphone and a single cell plan.
For example, a Galaxy Watch 4 can be setup to receive calls and text from a Galaxy S22 smartphone.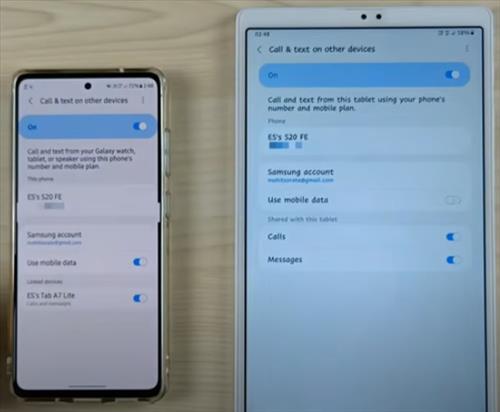 The setup is quick and easy by going to Settings–> Advanced Features and enabling the Call and Text On Other Devices option.
Many other combinations of devices can also be used, including compatible Non-Samsung Android devices and PCs.
A PC can also be set up to send or receive calls and texts.
A compatible device is needed, and a Samsung account needs to be set up for the option to work.
Most newer Samsung Galaxy smartphones and tablets will have the Call and Text On Other Devices option available.
This includes the Galaxy S20, S21, S22 and more.
Some cellphone carriers may disable this feature, and it may be country-specific.
How To Call and Text On Other Devices with Samsung Galaxy
Go To Settings (Gear Icon).

Click Advanced Features.

Slide the bar to On for Call and Text On Other Devices.

Click on and Agree to the Privacy Notice.

Find connected devices at the bottom of the screen and click on it.




Go to the other device and follow any on-screen instructions.

After the other device is enabled, the smartphone will give a notification it has been enabled.

In this example, a Samsung Galaxy Watch 3 has been connected and can now text and call.
Summary
Answering calls and text across Samsung Galaxy devices is convenient, quick, and easy to do.
Both the devices will need to be compatible with almost all new smartphones and tablets having the feature.
Your smartphone should have the feature but does not come up in settings; your cellphone carrier may have disabled it.
The option does not use Bluetooth but works using a Samsung account tied to both devices.
There is also an option to share text and calls with a Windows PC with a very similar setup.
Have you used Samsung Call and Text On Other Devices? Let us know your thoughts below.