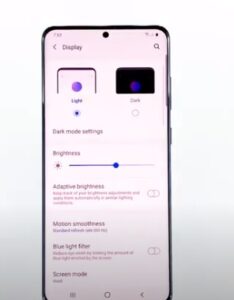 Screen timeout and brightness controls for Android smartphones has always been an issue for many users.
When using apps, mainly for reading, I prefer low back-light with long screen timeout times; for others with more visual elements and colors ( Gallery, for example), I need the opposite.
For example, it can be very annoying to keep to touching the screen to keep the screen on.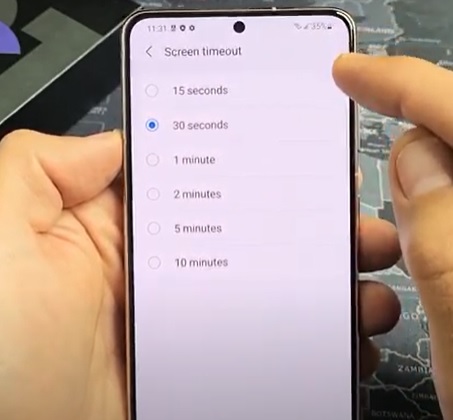 The amount of time the screen stays on can be changed with the options 15 seconds, 30 seconds, 1 minute, 2 minutes, 5 minutes, and 10 minutes.
So if the phone was set to 1 minute in options, it would shut off after 1 minute with no activity.
Samsung has come out with its Smart Stay technology that uses a front camera to monitor whether the user is looking at the phone screen and keeping the screen on.
This is a handy way to maintain and automatically adjust the screen when reading or using an app.
Below are the steps along with screenshots for both methods.
How to Adjust Galaxy S21 Screen Timeout and Brightness
Go to Settings (Gear Icon)

Select Display

To adjust the screen brightness drag the slider to the left or right

Next step scroll down, find the screen timeout option and click on it.

It will give you a selection to choose from 15 seconds, to 10 minutes before the screen times out.
How to Adjust Galaxy S21 Screen Timeout and Brightness?
The touchscreen can be too bright, too dark, or just right. Which setting is best? Follow these steps:
Open Settings
Select Display
Select the Brightness Level.
Adjust the slider to set the touchscreen intensity.
If you prefer automatic adjustment, set the Adaptive brightness item master control to the On position, or tap to place a check mark in the Auto box.
The Adaptive Brightness setting can be called Auto Brightness or Automatic Brightness.
You can also find the Brightness setting in the Quick Settings drawer.
How to Set Screen Lock Time Lock?
You can set the lock time on your phone when there is no touchscreen activity.
Open the Settings app
Select Display
Select Sleep. This item may be titled Screen Timeout
Select a time-out value from the list. The standard value is 1 minute
The sleep timer measures inactivity when you do not touch the screen, the timer starts ticking.
About 5 seconds before the touchscreen locks, the screen dims. The touchscreen is then turned off and the device is locked. If you tap the screen the timer is reset.
The lock screen has its own time-out. If you turn on the phone but the screen lock does not work, the device will automatically lock itself after about ten seconds.