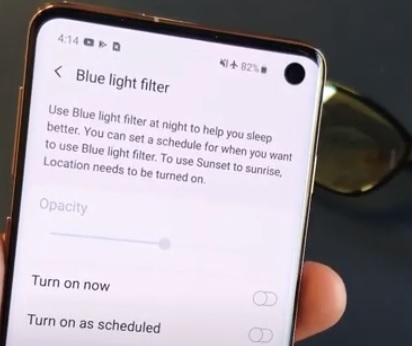 The Galaxy S10 series of smartphones comes with a blue light filter feature that can be enabled.
It also can be set on a scheduled and automatically turn on and off.
What is the Galaxy S10 Blue Light Filter?
Eye strain is a very real problem for many smartphone users often causing headaches and other pains.
This has been a problem for sometime for those who use a computer a lot with blue light filter glasses and other option a go to for many.
While there is no guarantee a blue light filter will work for you, many people use it daily.
The blue light filter option can be enabled immediately or has a scheduling feature to automatically turn it on or off.
Below are the steps to enable or disable the blue light option and a Galaxy S10.
How to Turn Galaxy S10 Blue Light Filter On or Off
Swipe down at the top of the screen which will display a menu.

Pull down again to extend the menu.

An option will be available to enable or disable Blue Light Filter.

Press and hold the tab to bring up a schedule option.