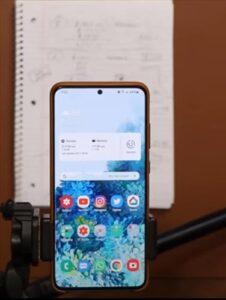 Sometimes we need to scan documents which is easy to do with almost any Samsung Galaxy smartphone. This includes Samsung Galaxy S10, S20, S21,S22, S23 and more.
After scanning the documents, they can be used in emails, text, or saved to a computer.
Scanning a document can be done without installing any app, so there is no need to download an app to your phone.
The camera is used to scan a document and works very well reading text and saving it to the phone.
Scanning can be performed on PDFs, letters, invoice papers, documents, and even photos if you wish.
When you need to scan a document, you can scan the documents for free using your smartphone or tablet.
There are also many features, such as converting to a PDF or other formats.
To enable the smartphone scanning, the options Scene Optimizer and Document Scan need to be turned on.
How to Scan Documents Using a Samsung Galaxy Smartphone
Open the Camera App on your Samsung Galaxy Smartphone.

At the top, click on Settings (Gear Icon) and click on Scene Optimizer.

Set Document Scan to On.

Once you have activated the options, open the camera again, focus directly on the paper or document you want to scan and click on the screen to start scanning. It will show you a yellow frame once you click on it.

Click the yellow frame where it says Tap To Scan.

The scanned documents are saved into your Gallery App.
How To Send a Scanned Document from Samsung Galaxy Smartphone
Sending a scanned document from Android only requires a few quick steps.
From your email app (assuming Gmail), tap Compose to start a new email message.
Tap the paperclip to add an attachment and select the option to add an attachment from Google Drive.
Find your scanned PDF and select it to attach to your email.
Finish and send your email every usual to send your scanned document.
Which Samsung Galaxy Smartphones Can Scan Documents?
Almost all newer Samsung Galaxy smartphones can Scan documents.
This includes the Galaxy S8, S9, S10, S20, S21, S22, S23 and more.
The option to scan documents is located in the camera app and is called Scene Optimizer.
Summary
Scanning documents with your Samsung Galaxy smartphone is very handy and works very well.
Samsung Galaxy Smartphones have a built-in scanner app that is very useful if you need to scan a paper to send it via email or other sources.
Almost all Samsung Galaxy smartphones can scan a document since the tool is integrated into the UI layer.
The scanner automatically detects the document, copies it, and saves it on the phone.
After being saved it can be sent to other people by email or text or saved to a computer.
You can also use your Samsung tablet to scan documents; however, when you're on the go, a phone scan is often the fastest and most intuitive option.