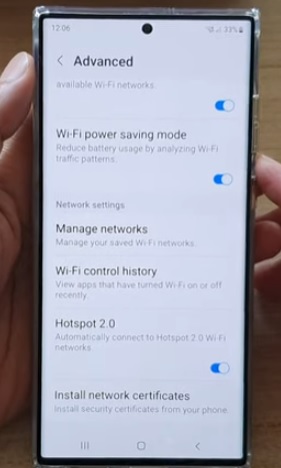 If you want to use the new WiFi hotspot 2.0 with the Samsung Galaxy S22, it is quick and easy to do.
The Samsung Galaxy S22 has what is called Hotspot 2.0, which has many added features that the older original hotspot does not have.
This includes the Galaxy S22, S22 Plus, and S22 Ultra.
What is WiFi Hotspot 2.0?
Hotspot 2.0 is a new wireless standard created to make public hotspot connections easier and more secure.
Features include making public hotspots more secure, service providers can partner with other providers to give better service, mandatory encryption for all connected devices, and more.
The wireless security protocols WPA2 WiFI-5 or WPA3 WiFi-6 are used to provide security and stop any possible snoopers.
This is a great update to help keep wireless communication more secure.
How to Enable WiFi Hotspot 2.0 Galaxy S22
Swipe down from the top of the screen and select Settings (Gear Icon).

Select Connections.

Select Wi-Fi.

Tap the Three Dots at the top right.

Select Advanced.

Scroll to the bottom and select Hotspot 2.0, and swipe the bar to turn it on.

Tap to the left of Hotspot 2.0 to bring up the Open Roaming screen.

Open Roaming secures the network for those with a Samsung Account.
Summary
Using Hotspot 2.0 with the Samsung Galaxy S22 has many added benefits.
Benefits include better security and better connections when with other providers.
WPA2 WiFI-5 or WPA3 WiFi-6 can be used for wireless security with the newest standard WPA3 WiFi-6.
Both standards work well, but if possible, use the newest standard.
If, for some reason, Hotspot 2.0 causes issues such as a device not being able to connect, it can be turned off using the steps above.
Most devices should not have an issue unless they are very old units using old WiFi security standards.
Have you had any issues using Hotspot 2.0 with the Samsung Galaxy S22? Let us know in the comments below.