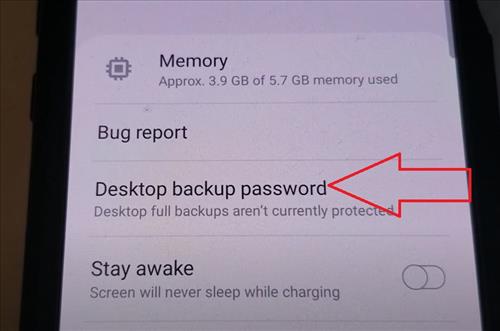 Enabling the desktop backup password on Samsung Galaxy S10 is quick and easy to do and is part of the developer options.
To set it, first, the hidden feature, "Developer Options," needs to be enabled.
Developer Options can be enabled by tapping on About Phone seven times.
What is Desktop Backup Password on Samsung Smartphones?
The option sets the password for the smartphone backup that is created with ADB developer tools.
It is a hidden feature for developers and advanced users.
Below is a step-by-step how to enable a desktop backup password on a Galaxy S10 with a video at the bottom of the page if needed.
How To Enable Desktop Backup Password on a Galaxy S10
Go To Settings, swipe down from the top of the Galaxy S10 and click on it.

Scroll down and select About Phone

Click Software Information

Tap on Build Number 7 Times

A message will display Developer Mode Has Been Turned On

Go back to the main settings page and below About Phone will be Developer Options.

Make sure the Developer options is turned on, then scroll down, find the Desktop Backup Password and then click on it.

Type the current password, new password for full backup, and then click the set backup password.