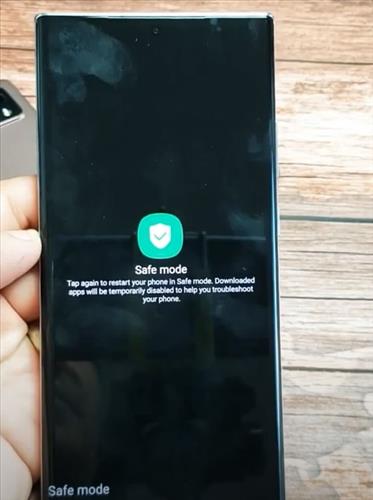 Enabling safe mode on a Samsung Galaxy Note 20 is quick and easy to do.
Safe mode is a way to launch Android on a smartphone or tablet without any third-party apps, usually running as soon as the operating system loads.
Usually, when you power on your Android device, a series of apps like a clock or calendar widget can automatically load on your home screen.
Safe mode prevents this from happening, which is excellent if your Android smartphone or tablet crashes frequently or runs incredibly slow. However, it is a troubleshooting tool rather than an actual remedy for the problem. When you launch the Android smartphone or tablet in safe mode, third-party apps may not run at all – even after the device boots up.
Below is a step-by-step on how to enable Samsung Galaxy Note 20 Safe Mode.
How To Enable Samsung Galaxy Note 20 Safe Mode
Press and hold the Side button and Volume down button (right edge).

When a prompt appears on the screen, release the buttons.

Touch and hold the Power Tab until the 'Safe mode' prompt appears.

To confirm, tap on Safe Mode.

Note: The process may take up to 30 seconds to complete. Safe mode appears in the lower-left of the unlock / home screen. With Safe Mode enabled, ensure Airplane Mode is turned off, then test device and app functionality.

Summary
The Samsung Galaxy Note 20 has many advanced features, including an option to boot into safe mode.

Safe mode works very well to troubleshoot a unit that may be having issues.

It does this by disabling any unnecessary apps and loading only basic services.

If your phone has an error, you can lead it into safe mode.

If the error goes away in safe mode, you will know the hardware is good, but something in the software is having a problem.

Usually, it will be a bad app or similar, but in some cases, it can also be a setting.

Have you had any problems with Samsung Galaxy Note 20 booting into Safe Mode? Let us know your thoughts below.