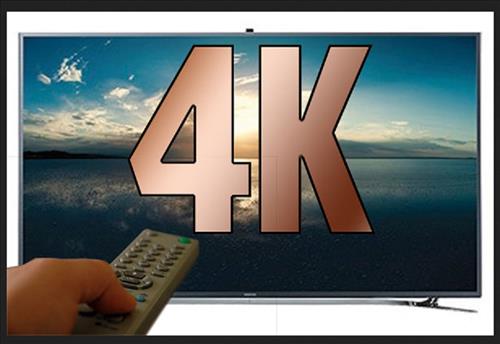 There are many good Kodi add-ons that can stream full HD movies

Most online streams currently are HD 720p or 1080p but some 4K Ultra HD feeds are slowly becoming available.

4K requires a minimum internet speed of 15-20mbps. Standard HD 720p requires 3-5Mbps.

Good hardware is also needed to not only play HD streams but also have fast WiFi or Ethernet.

Keep in mind all add-ons can stop working or buffer as a servers becomes full, or code is not updated.

Below is a working list of good addons, if you have a good one let us know below.

Using a good VPN with Kodi is always suggested for privacy and security. If you need a good low cost VPN to use with Kodi Try IPVanish it has high speed servers with no throttling or logs.






Best Kodi Addons for 4K, 3D, 1080p, HD Movie Streams December 2017

… Maverick TV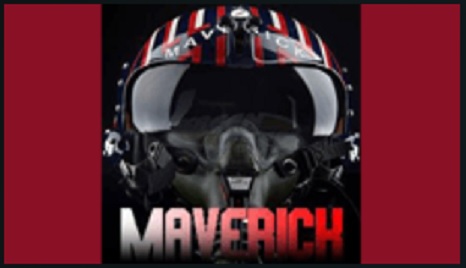 Maverick TV is a top add-on with a lot of sections for Movies, TV Series, Music, Radio, Live Sport Channels , News, and Entertainment Channels, Documentaries and 4K UHD Movies.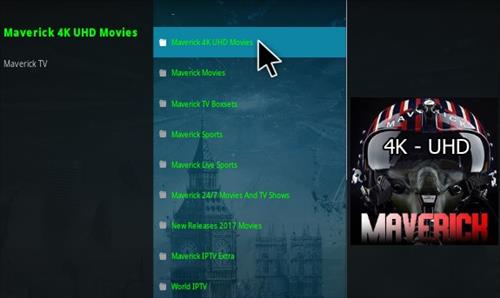 The 4K UHD Movies section has a lot of 4K Ultra HD video streams.

How to Install Maverick TV

… Neptune Rising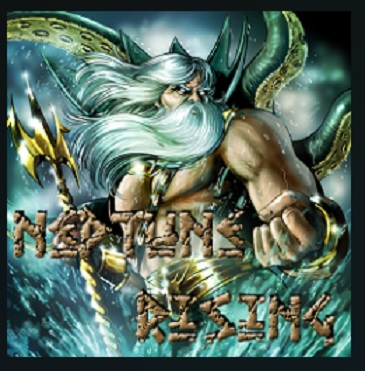 Neptune is a new addon which has many different options such as new movies, tv shows, Top Movies, Playlists, Criters Corner, What the Fork, IMDB User lists and many more.
It pulls in a lot of links and displays the HD ones at the top. So far it has been reliably pulling in a lot of 1080p streams.

How to Install Neptune Rising Kodi Add-on

… Strictly HD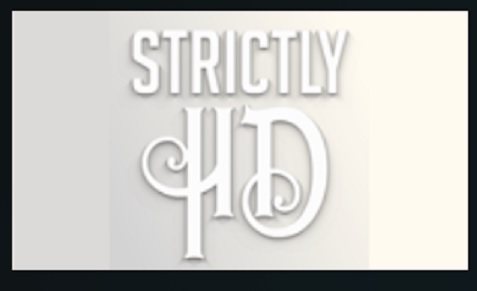 Strictly HD is a Kodi video add-on that has movies with only 1080p or higher links.

So far it has been working well and is good for good HD streams.

How to Install Strictly HD

… Mr Robot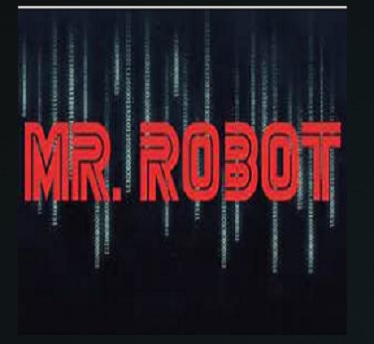 Mr Robort is a new all-one Kodi add-on by the Art Man. This add-on has many offers to choose from including TV Shows, Movies, Sports and you can also watch shows around the world with a free IPTV section.

How to Install Mr Robot

… Rebirth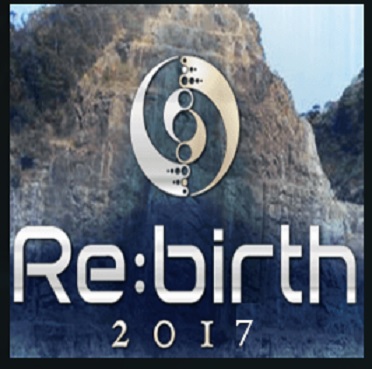 Rebirth Kodi Addon is a Fork of the once popular Exodus add-on with updated code.

After it scrapes for movie or TV show links It list the high quality ones at the top.

How to Install Rebirth

… Paul's World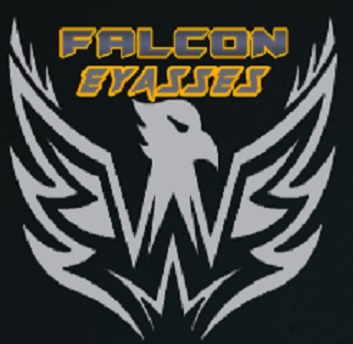 Paul' World is a new Kodi all in one addon that can be installed from Ajs Repository. It has great section for 4K Movies and 3D Movies.

How to Install Paul's World

… SpinzFlix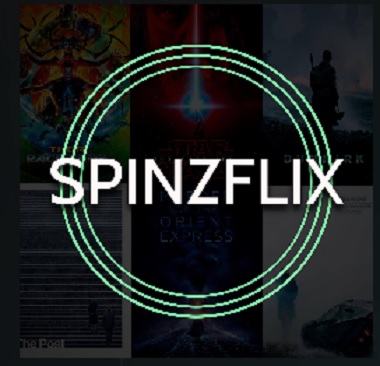 Spinzflix for kodi 17.6 From Spinz TV Repository is great for movies and TV shows.

… Midian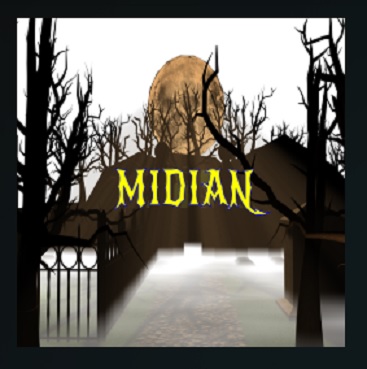 Midian has contains Movies, TV shows, Cartoon, and Lots of classics and retro media as well various playlists to choose from. It has also sections for 1080p VOD, one click VOD, Genres, Movie boxsets, Mega list and Random Movie lists.

How to Install Midian

… WolfPack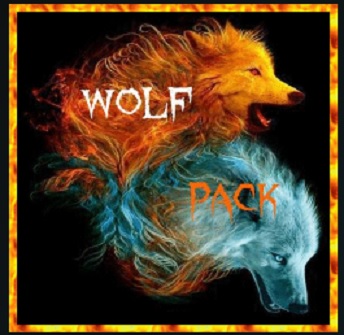 WolfPack is a new all-in one updated kodi add-on. This add-on has 4K Movies sections, Classic 60's TV, Classic 90s TV, HD Audio, Eye Popping 3D Movies, Boxsets HD, Family Christmas Movies/TV shows and more.

Screenshot WolfPack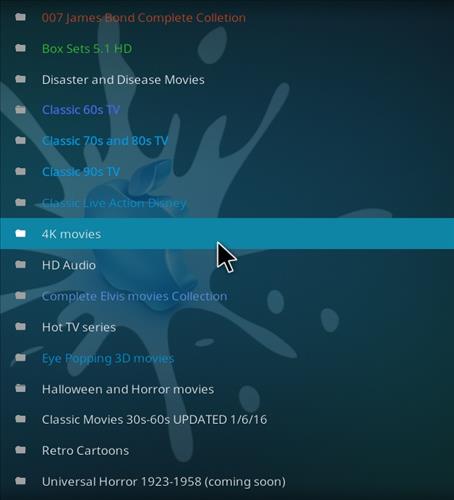 How to Install WolfPack

… Atom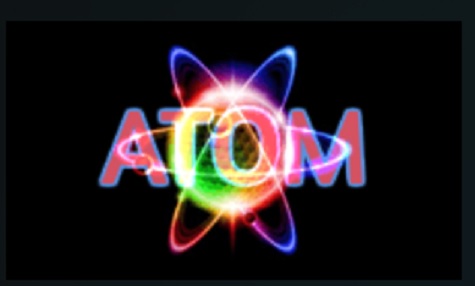 Atom is a brand new all-in-one Kodi Add-on. It has a great sections for 4K Movies, New Releases, Real Debrid Movies and more.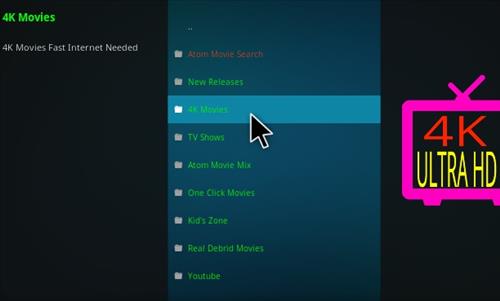 After selecting a movie be sure to give it a moment to find the best link.

How to Install Atom

… Star Tec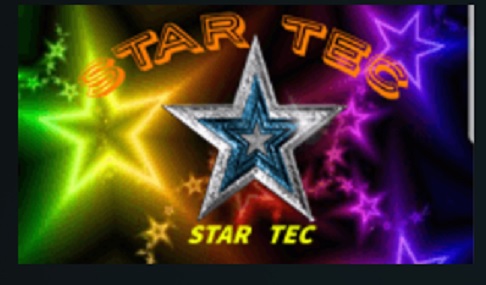 Star Tec is a nice addon that goes out and scrapes all available links.

It plays movies and TV shows and has dedicated 4K and 3D sections.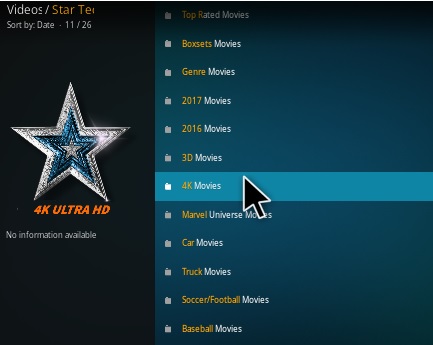 When a video is selected it takes a minutes to find the best one and then plays it automatically.

How To Install Star Tec

… The Pyramid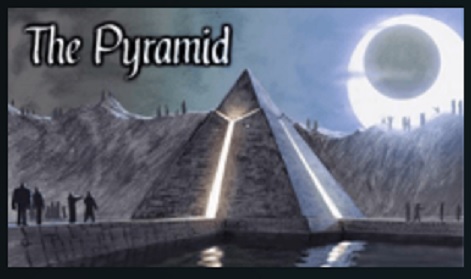 Pyramid is a great add-on for streaming 4K Movies and 3D movies.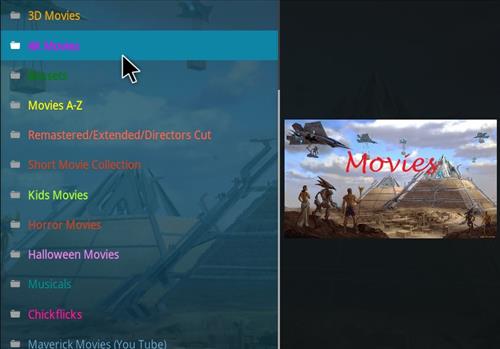 It has been recently updated and is working very well.

It also has sections for latest movies, Latest TV, Movies A-Z, Kids Movies, Horror Movies, Musicals, Boxsets, Documentaries, Sport, Music, Radio, Standup Comedy and more.

How to Install Pyramid

… Myriad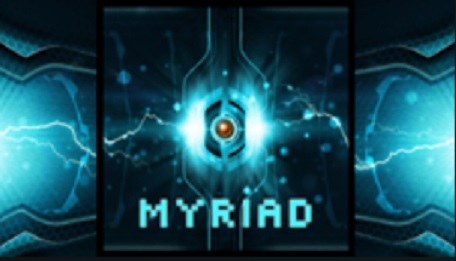 If you like multi-site scrapers, you'll love the Myriad add-on. This is a great addon to watch movies and TV shows from the DandyMedia team. It's working really well and has a lot of 1080p links for Tv Shows and Movies.

How to Install Myriad

… Nemesis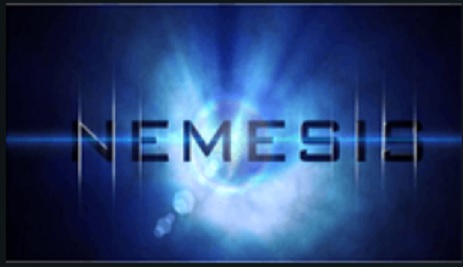 Nemesis has a dedicated 4K and 3D section in movies which works surprisingly well.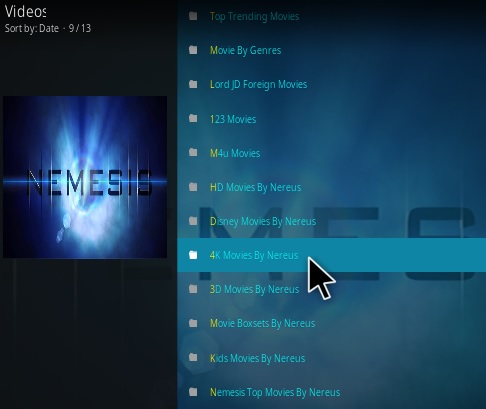 After selecting a video it will popup and say Trying To Find the Best Link and automatically play the best one found.

Nemesis also has live Sports streams and replays sections, Movies including 4k and 3d movies, TV Channels, Music, Audio books, Air Traffic Control, Scanner, Kids. Cartoon, Anime, and Adult.

How to Install Nemesis

… Bennu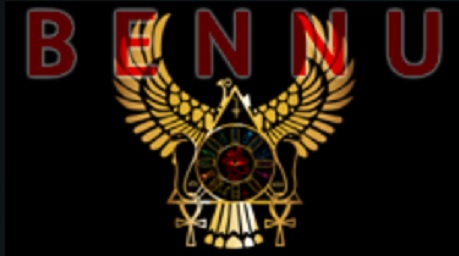 Bennu is a new version of the popular Phoenix addon for Kodi in 2017.

It combines a lot of content from many contributors such as Dr Stream, Taurus and Excalibur.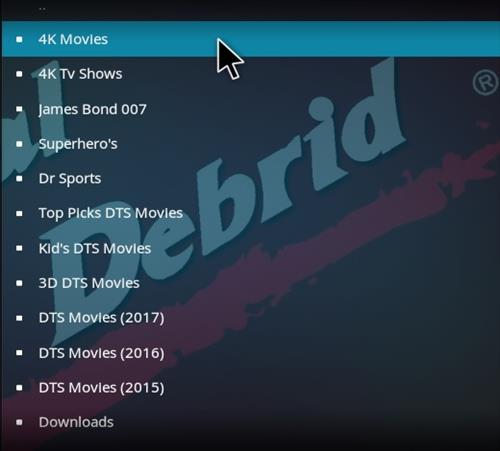 There are many links, from low end Cams to HD 4K video sections.

How to Install Bennu

… Bob Unleashed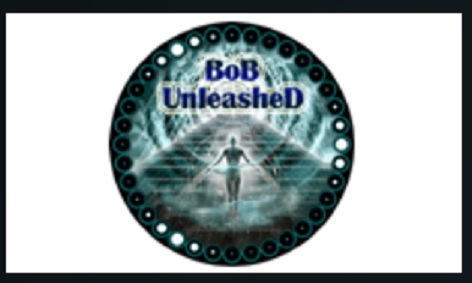 Bob Unleashed is a great Kodi add-on from Noobs and Nerds Repository. It has a lot good sections for movies / TV shows with good quality and high definition feeds. It is a big update over previous BoB versions with a lot of new settings and content added.

How to Install Bob Unleashed

… 1080P Movies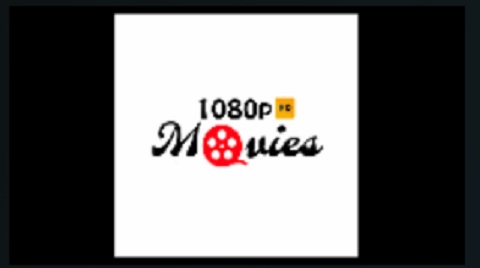 1080P Movies is one the better movie add-ons for from Dandy Media repository. This add-on is a one click play, and tries to find 1080p links for every movie stream. Its definitely a nice one to add to the collection.

How to Install 1080P Movies

… Flixanity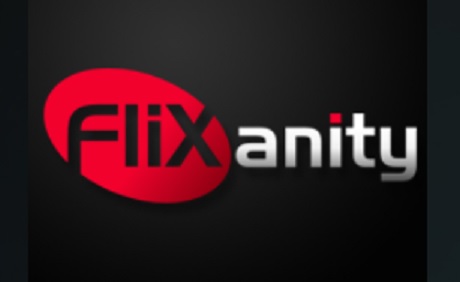 Flixanity is a new Kodi addon from Stream Hub that plays streams by video quality.

After a video is selected it displays the streams based on resolution of the video.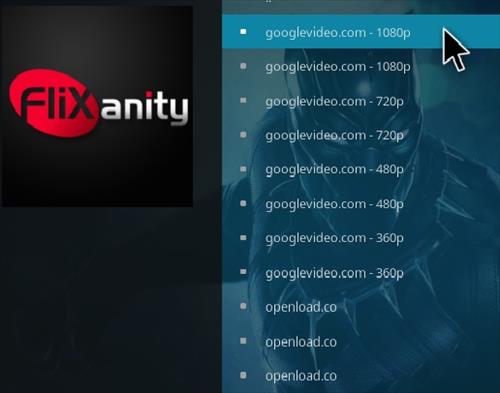 This includes 1080p, 720p, 480p, 350p and more if available.

Being able to select the resolution of a video not only is good for playing HD content, but also using lower resolution videos when data or bandwidth is limited.

How To Install Flixanity

… Covenant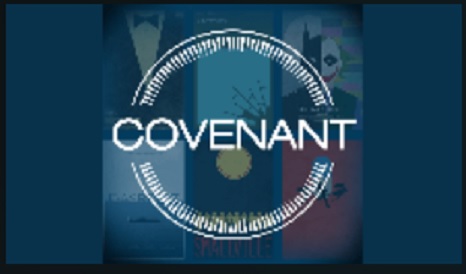 Covenant is a new add-on and the replacement for the popular Exodus.

It is based on Exodus so the interface is the same but with undated links which stream better.

Like Exodus it plays movies and TV shows and is currently working very well.

It pulls in the best links and list the best HD ones at the top.

How to Install Covenant

… Go Streams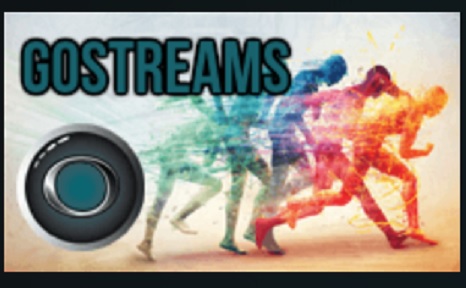 Go Streams is a new movie and TV show addon that has a lot of potential.

It streams content at either 360p or 720p resolution.

This makes is able to not only stream HD video with a fast internet connection, but also times when a slower connection is all that is available, such as over a cell phone plan.

The links are also one-click to play.

How to Install Go Streams

… Suprabox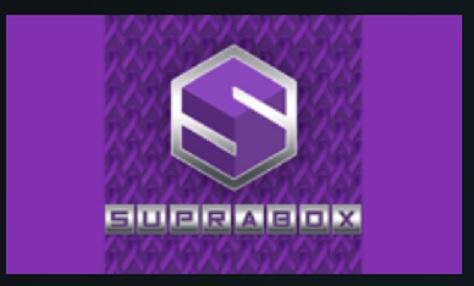 SupraBox is a new all-in-one add-on for Krypton including 4K Movies. It has also sections for 1080p, ONTV, IMACS DOCS, Classic Movies, Classic Boxing, Top Gear Specials, Ice Hockeys Tributes, USA TV, UK TV, Sport TV and many more.

How to Install Suprabox

… Quantum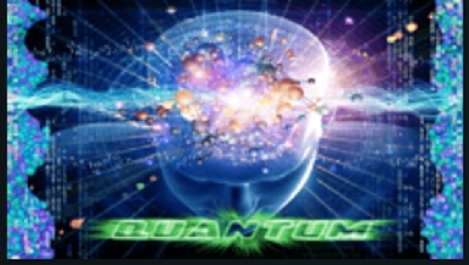 Quantum is one of newest Kodi add-ons from Sanctuary Repository and has 4K Movies. This add-on has a big selections for movies, TV shows, Kids Live TV, Music, Sports, 24/7, Documentaries and more.

How to Install Quantum

… Picasso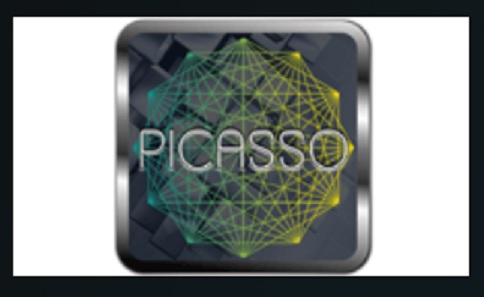 Picasso is a great Kodi add-on with 4K Movies for July 2017. It has also has sections for Movie Madness, Keep Safe, Find It, Telly Box, Sports Area, Tunes, Documentary, Keep Fit, Lol, Talk To Me, Little Ones, How to and Magic, Get Scared and 18+. In Movies Madness section you can watch most popular movies, Featured Movies, Genre Movies, 4K Movies and mixed movies.

How to Install Picasso

… Poseidon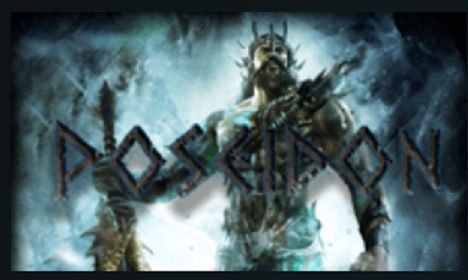 Poseidon is an Exodus fork with playlists added to it works best with real-debrid, but you will still get HD links without it. It is a great new add-on that allows you to watch movies, TV shows, Top Movies and more.

How to Install Poseidon

… Supremacy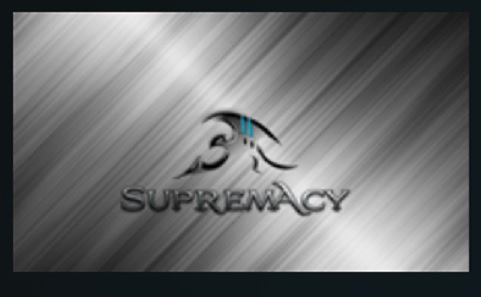 Supremacy is a great add-on for 4K movies and 3D movies. You can watch also live TV, Kids TV, New releases, TV Shows, Movies, Movies A to Z, Supremacy Boxsets, SkyMovies, Live sport, Chritsmas 24/7 TV shows, You Tube and Testing.

How to Install Supremacy

… SkyNet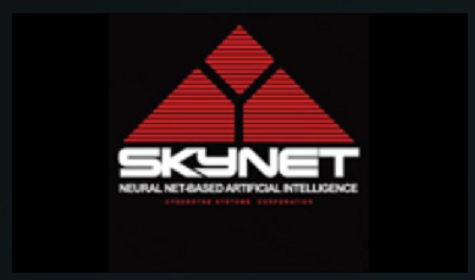 Skynet is a new Kodi add-on for 2017 that recently came out and is currently one of the best HD add-ons for Kodi 17. This add-on has 4 popular add-ons including Dojo Streams, Silent Hunter, Supremacy and Maverick TV. You can watch Maverick 4K UHD, Silent Hunter 4K UHD and Supremacy 4K UHD. It has also different sections like Skynet Movies, Skynet Sports, Skynet Boxsets, Skynet New Releases, Skynet 24/7 Movies and TV Shows

How to Install SkyNet

… At The Flix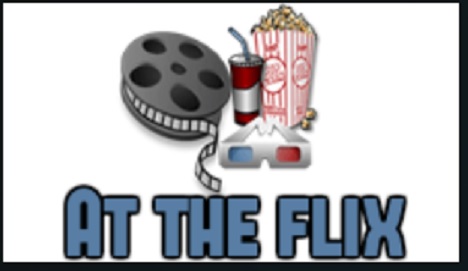 At The Flix KODI addon is a great on click movie addon with a great selection of movies including 4K and 3D movies.

How to Install At The Flix

… Real Movies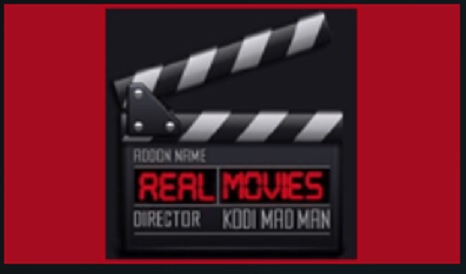 Real Movies Add-on is a one-click-to-play movie add-on with 4K Movies with Full HD Movies and 3D options. Every single stream is fast even the 4K movies. You can watch all of new releases, TV Shows, Old-Skool Movies, Comedy, BoxSets and Disney Collections.

How to Install Real Movies

… Lions Den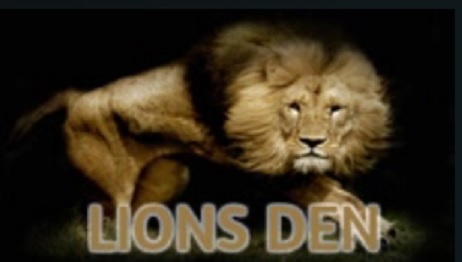 Lions Den is a nice new one click add-on from Supremacy, with content for Movies categorized by Years from 1900 to 2017. It has plenty of options to choose from.

How to install Lions Den Kodi Add-on

… Universe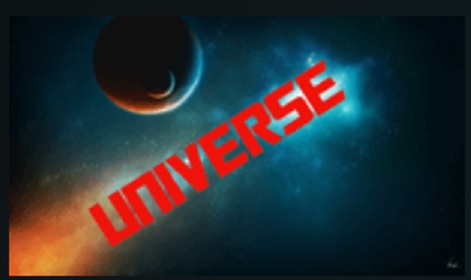 Universe is great for watching for HD Movies, Kids Movies, Bollywood and 3D Movies.

How to Install Universe

… Uk Turk Playlists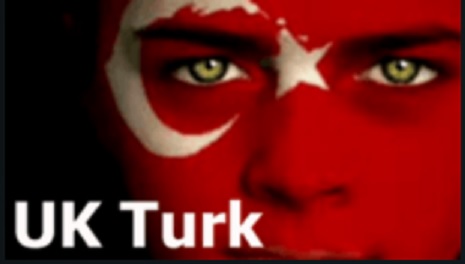 UK Turk Playlists is one the oldest and more popular Kodi add-ons.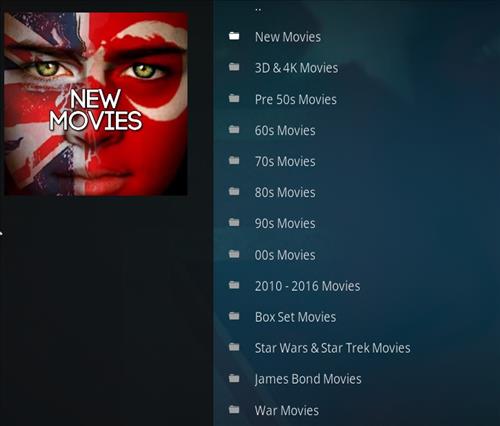 It has many sections including dedicated sections for 3D and 4K movies.

While the 4K list is currently short it has been growing, getting bigger with good links.

How to Install UK Turk Playlists


Kodi and the right add-on is no-doubt a nice thing to have but can be technical and at times or have problems.

Add-ons that stream great one day can become unusable the next, depending if the developer keeps the code updated.

The above add-ons are simply some of the best options currently with no-doubt many more available.

If you have a favorite 4K Kodi add-on that works well for you let us know in the comments below.